Windsor Detroit Bridge Authority Partners with University of Windsor
Windsor, Ontario – Windsor-Detroit Bridge Authority (WDBA) announced today that the Cross-Border Institute (CBI) at the University of Windsor, in partnership with Michigan State University's Canadian Studies Center, has been contracted to undertake an economic impact and opportunities study of the Gordie Howe International Bridge project.
Both universities offer specific expertise in economic impact analysis and supply chain/logistics. The CBI also offers strong analytical capabilities through its Traffic Lab.
The study will be conducted in three phases and will identify and quantify the economic benefits arising from the construction of the new bridge as well as the opportunities for economic development that are created once the new crossing is in service.
WDBA is committed to the region's economic success and is working with businesses, educational institutions and community groups to help them realize regional economic and community development opportunities.
Quotes
"WDBA enjoys a strong strategic relationship with the University of Windsor and is pleased to build on that partnership. This study will identify ways in which the Gordie Howe International Bridge can increase the economic benefits and opportunities on both sides of the border. At the recent introductory meeting, we witnessed considerable enthusiasm for the Proponents to participate in this historic project. WDBA looks forward to building on that momentum "
Michael Cautillo, WDBA President and Chief Executive Officer
"The University of Windsor is looking forward to working closely with the Windsor-Detroit Bridge Authority to study the economic impact and opportunities that will be created by the Gordie Howe International Bridge project. The University's Cross-Border Institute has the expertise and deep knowledge of border issues and supply chains to make an important contribution to the study. The new crossing will have a tremendous impact on both sides of the border, and the study will go a long way to ensuring all economic benefits are identified."
Alan Wildeman, President and Vice-Chancellor – University of Windsor
Quick Facts
• The Gordie Howe International Bridge project is the largest and most ambitious bi-national border infrastructure project along the Canada-United States border.
• The project includes four components – the Canadian and US Ports of Entry, the bridge over the Detroit River between Windsor, Ontario and Detroit, Michigan, and the Michigan Interchange connecting to Interstate-75 – and is part of new highway-to-highway border transportation system for the Windsor-Detroit trade corridor.
About Windsor-Detroit Bridge Authority
Windsor-Detroit Bridge Authority (WDBA) is a not-for-profit Canadian Crown corporation created to manage the procurement process for the design, construction, financing, operation and maintenance of the new Gordie Howe International Bridge between Windsor, Ontario and Detroit, Michigan through a public-private partnership (P3). WDBA is also responsible for project oversight.
For more information on WDBA visit www.wdbridge.com and follow WDBA on Twitter at twitter.com/WDBAbridge.
About the Cross-Border Institute
The Cross-Border Institute (CBI) at the University of Windsor was founded in 2008. It is dedicated to research, education and public outreach related to the movement of people, goods and services across the Canada-US border. It takes a multi-disciplinary perspective, incorporating engineering, economics, the social sciences, management and law.
For more information on the CBI visit www.cbinstitute.ca and follow the CBI on Twitter at twitter.com/CrossBorderUW.
-30-
For more information:
Mark Butler
519- 946-4859
August 09, 2016 02:24 from Peter Langille

Dr. Bill Anderson (photo courtesy UWindsor website)
US Presidential candidate Donald Trump may talk about getting out of the NAFTA deal, but an expert on cross border issues says it may not be that easy.
Trump re-stated his plan to tear up the NAFTA agreement during his speech in Detroit yesterday.
The Director of the Cross-Border Institute at the University of Windsor says the North American trade deal doesn;t seem to have an exit mechanism.
Dr. Bill Anderson says we need to realize the Trump rhetoric is not really about Canada, that it's a catch-phrase that represents globalization to Americans and lost jobs in manufacturing.
Anderson says he's looked at a number of sources and none seem to understand how to terminate NAFTA:  "nobody seems to know the answer to that question, you would think it would be fairly basic.  In the case of Brexit there was a particular article in the agreement that said exactly how you would approach Britain leaving the European Union.  There seems to be a great deal of ambiguity about how any one of the partners would get out except they'd have to give a notice"
He remind people the conversation about trade in the US is more about their southern border, he points out Trump was in Detroit but didn't even mention Canada.
Anderson points out that if NAFTA were to be torn up, major industries like the the auto sector would have to spend significant amounts of money to make adjustments to any new trade mechanism.
Congratulations Dr. Roman Maev! Dr. Maev continues to do great work with CBI, including his research in Biometric Screening Based on Acoustic Technology.  Click here read more!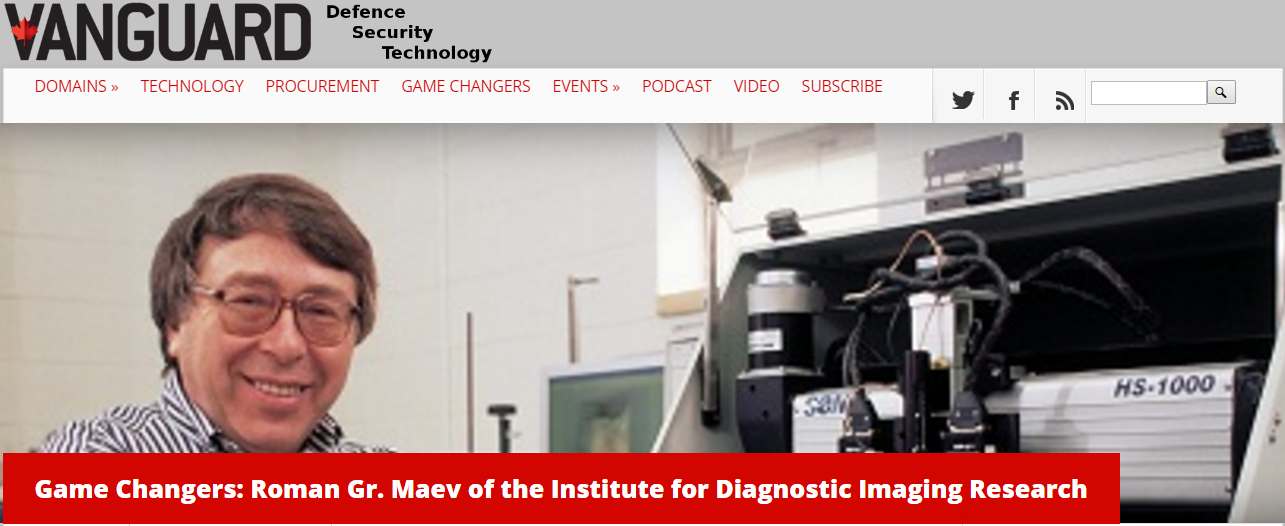 CBI's Bill Anderson addressed the Standing Committee on International Trade, speaking about the Trans-Pacific Partnership Agreement (TPP).  The trade committee, composed of MPs from three federal parties, has been touring Canada talking with Canadians about TPP.